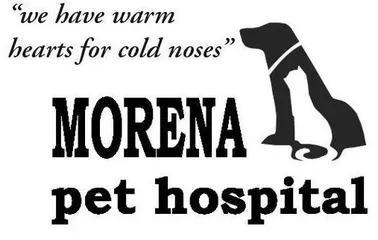 WELCOME TO OUR PRACTICE
Morena Pet Hospital is your full service animal hospital, located in San Diego, California. Whether your family includes a dog, cat, rodent, rabbit, reptile, ferret, or any exotic pet, our animal hospital is composed of a highly trained staff that offers the kind of service and care you and your pet deserve.
We would like to assure everyone that we, at Morena Pet Hospital, are taking the necessary precautions during this trying time to keep our staff, clients and their pets healthy. Besides stepping up our sanitation inside the hospital, we are now asking clients to remain in their vehicle when you arrive. Please arrive 10 minutes prior to your scheduled appointment and call us from your vehicle at (619) 275-0888. We are currently allowing ONE client in at a time per doctor/ per appointment and require facial coverings to be worn inside the exam rooms at all times.
We ask that any of our staff or clients that are feeling ill to please stay home.
Our Web site is full of valuable information about treatment options; advice for maintaining your pet's health; and even a complete Pet Care Library with detailed resources about animals and their care. On this site you also will find specifics about our practice, including office hours, driving directions, new client information, appointment scheduling and an introduction to our highly trained staff. Giving your pet the best possible care is our first priority.
NOTICE: Veterinarians are exempt from California Assembly Bill 2789 which requires electronic prescriptions. Click here to show the document to your pharmacist if they refuse to fill a prescription for your pet
Due to COVID 19 we are still experiencing increased volume of phone calls. We ask for your patience as we triage phone calls to identify sick or injured pets that need to be seen.
Our Mission Statement
"To serve our patients in a courteous, professional, and kind manner. To let our clients and patients know they are valued, and to develop long-term relationships with them. In addition, we aim to offer state-of-the-art care with minimum discomfort, to promote regular preventative care in our office, and at home, so our patients can enjoy a lifetime of good health, and to provide an enjoyable, positive atmosphere for our employees to work in"
Thank you for visiting our site!

---
Morena Pet Hospital Video: Flea Facts
Quick Forms / Pet Loss

HOLIDAYS WE OBSERVE
_______________________________
Memorial Day, Independence Day, Labor Day, Thanksgiving Day, Christmas Day, New Years Day
Latest Updates
---
Starting January 1st 2023, we will no longer participate in the Humane Society Low Cost Spay & Neuter program.