Morena Pet Hospital offers a full range of veterinary services to care for your pet, whether your pet is a dog, cat, rodent, rabbit, reptile, ferret, and other exotic pets. Learn more about our complete line of services here, and why they are important to maintaining the health and happiness of your pet.
---
Physical Examinations - At Morena Pet Hospital, we offer comprehensive examinations that help evaluate the overall health of your pet. Regular physical examinations can detect problems in their early stages, before they become serious illnesses requiring prolonged treatment. Preventative medicine is the easiest, least expensive and most important way to keep your pet healthy. Early detection ensures prompt action that may solve the problem before serious consequences occur. Emergency Appointments Welcome- Please call if possible!
---
Vaccines - Immunizations are a crucial part of your pet's health care. Some immunizations are recommended yearly while others are given every two or three years. Usually administered during an annual exam, we work with you to develop an individual vaccine protocol that best suits your pet's needs.
---
Diagnostic Lab Testing - Much like the "check engine" light in your car, diagnostic tests serve as an important signal to your veterinarian that a pet may suffer from an underlying health problem that isn't clearly visible by physical examination alone. It's important for dogs and cats, especially as they age, to get regular diagnostic testing as part of their annual wellness exams.
---
Microchip Identification - This unique form of identification is an easy, yet permanent way to bring your pet home quickly should he/she become lost. The microchip is a tiny electronic device, about the size and shape of a grain of rice. It is implanted beneath your pet's skin between the shoulder blades, and stays there for his/her entire life. This procedure is as easy and as painless as a vaccination.
Each microchip has a unique number. This number, along with information about the owner and pet, are added to a national pet registry. Most veterinary hospitals and animal shelters have electronic scanners for detecting and reading these implanted microchips. If a lost pet is found and a microchip is scanned it is easy for you to be contacted.
---
Nutritional Counseling - Proper diet is an important part of your pet's health. Should your pet need a new diet due to health concerns or you are just looking for a healthy alternative to your current brand, we offer individual consultations and nutritional plans to help keep your pet healthy.
---
Behavior Counseling - Pets often show illness or anxiety through improper or changed behavior. Let our staff help you determine what is appropriate behavior and what you can do to change inappropriate behavior.
---
Dermatology - Hair loss and constant scratching can indicate fleas, food allergies or other more serious skin conditions. We provide specialized dermatological services to all of our patients including allergy testing and desensitization treatments.
---
Dentistry - Clean teeth and healthy gums are essential to your pet's health. Infections are more common in the mouth because they can go undetected for long periods of time. Our veterinary staff regularly performs oral exams, cleanings and periodontal care as part of our comprehensive health care goals.
Dental problems, if left untreated, can often lead to larger systemic problems in your pet due to oral bacteria entering the blood stream and damaging the kidneys, heart and liver.
Some Signs of Dental Problems include:
Bad breath – one of the first signs of dental disease
A yellowish-brown crust of plaque on the teeth near the gum line
Red and swollen gums
Pain or bleeding when your pet eats or when the mouth or gums are touched
Decreased appetite or difficulty eating
Loose or missing teeth
---
Digital Radiology (X-rays) and Diagnostic Ultrasound - One of the newest advances in both human and veterinary medicine is digital technology, and one of its main uses is in radiography. This method of taking patient images has numerous advantages over traditional x-ray film, including exposure to far less radiation, the ability to take more images, and faster (almost instantaneous) display of images. In addition, veterinarians can now send images to other computers within the hospital as well as to a specialist off-site or send you home with a copy of your pet's x-rays by CD or e-mail.
An ultrasound can be a helpful diagnostic tool when trying to determine the underlying cause of a pet's medical condition. Ultrasounds provide a noninvasive, safe means of obtaining important medical information. In certain instances, an ultrasound may provide veterinarians with more detailed information than an x-ray, allowing us to visualize the internal appearance of an organ. An ultrasound exam is often recommended in conjunction with x-rays.
---
Grooming Services - Hygiene is important. We gladly offer routine and medicated baths, nail trims, and limited grooming for our patients.
---
Adoption Services - We regularly work with local area shelters and rescue organizations. Animal Rescuers without Borders , San Diego Humane Society , San Diego Animal Control and Helen Woodward are a few.
---
Referral Services - We offer Complimentary Physical Examinations for newly adopted pets from San Diego Animal Control, Humane Society, and Helen Woodward Animal Center, and others. Please bring your adoption paperwork and any medical/vaccination history with you the day of your exam. If you have recently adopted a pet from a rescue group, ask for a complimentary or discounted exam!
---
Discount Services - We gladly provide discounted services for active military, senior citizens, and service animals
---
Insurance Plans Accepted & Finance Plans Available - To learn more, please visit our Discounts, Financing, & Specials page. For additional information regarding pet insurance plans, please refer to our Resources page.
---
Laser Therapy - We now offer therapeutic laser therapy. This is a holistic, non-invasive treatment that can help reduce inflammation. It can help with a variety of diseases such as Intervertebral disc disease, cruciate ligament injury, degenerative joint disease, dermatological disorders...etc. It is also beneficial to use post operatively to stimulate healing which can lead to faster recovery and less post-operative discomfort. Please give us call and ask about our special packages for treatments.
---
Acupuncture Therapy - We now have Acupuncture therapy available with Dr. Jeanne Potter. Please call to schedule.
---
Telemedicine Consults:

We are excited to now offer telemedicine consults for existing clients. This is a virtual visit, either by phone or video, which will allow the doctor to speak directly with you about your pet, as well as a brief "exam" via video. The main goal of this type of consult is to reduce unnecessary visits to the hospital for certain recheck appointments, or to assess whether your pet needs to come into the hospital for an in-person visit. If we deem this necessary the physical exam fee is waived. Please call us to schedule a telemedicine consult for your pet. 619-275-0888.
---
Librela- OVERVIEW
Librela Is the First and Only Monthly Injectable Monoclonal Antibody Therapy for Dogs With Osteoarthritis (OA) Pain
• Approved as safe and effective and provides long-term canine OA pain control+³
• A monthly subcutaneous injection, administered at the clinic by veterinary professionals
•Reduced canine OA pain, which led to increased activity and improved quality of life2-5.
*Results from clinical studies conducted in the US and EU.20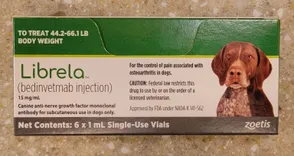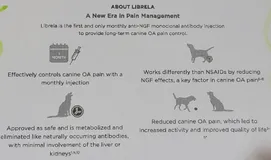 ---
Solensia- OVERVIEW

Solensia is the once-monthly monoclonal antibody therapy, for the control of Feline Osteoarthritis (OA) pain, administered by a veterinarian.
• 77% of cat owners reported improvement in signs of pain when their cats were treated monthly with Solensia in a 3-month study*
•Controls the pain of OA in cats, helping to improve their mobility, comfort and well-being.
•Solensia was found to be well tolerated in field studies that include cats identified as IRIS stage 1 or 2.